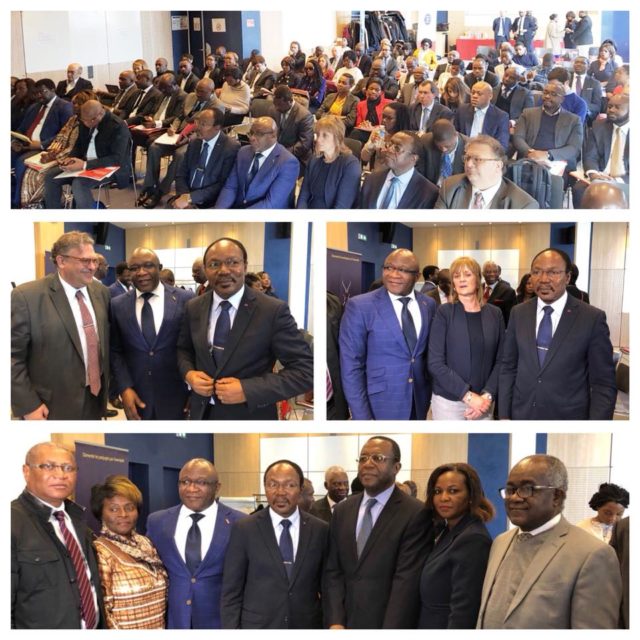 Africa, Business, Innovation: Investment opportunities in Cameroon. Such was the chosen theme tackled by Club Efficience during its third business breakfast.
Once again, Club Efficience partnered with Sciences Po to offer to its members an exclusive event to envision the possibilities of participating in the economic and social development of the Continent.
Today's focus was to present guests and potential investors with practical action plans, relative to investment offers available in Cameroon.
Nicole BRYANT, Director of Executive Education at Sciences Po, gave the keynote speech at the breakfast, highlighting the interest of Sciences Po in this part of the world. She also reminded attendees that Africa is a continent of the future in light of its economic and demographic growth, which confirms without a doubt the resolve of Sciences Po to establish its commitment to Africa. This is also evident through its partnership with Club Efficience, and the opening of its first institution in the Continent in Nariobi 19 February of last year…
Its with this mindset that participants have explained how essential it is for the diaspora to be aware of the opportunities offered to it and become a component to the construction of a new Africa.
In order to achieve this, Victor TCHATCHOUWO, the first advisor to the ambassador from Cameroon to Paris, Se M. Samuel MVONDO AYOLO, shared good business practices to maintain if one aims to succeed in the Cameroon market, in respect to the currently evolving dynamic.
The first advisor to the ambassador indicated that with proactive policy, Cameroon largely contributes to the economic wellbeing of the Continent. Additionally, to address the different problems from which it suffers, sparked by the law of 18 April 2013, Cameroon is taking measures to create an incentivized approach to private investment. The most populated countries in the CEMAC zone, having remarkable human, natural, and railway resources, have prioritized 5 major industries for investment: infrastructure, production, education, health, and government. Similarly, there is growth in sectors such as: agriculture, livestock, telecommunication, transportation, roadways, mining and administration and creation of businesses. Innovative entrepreneurs and investors of the diaspora decide what path to take their investments and create job opportunities for the numerous qualified, bilingual young Cameroonians, proving that Cameroon is not a sleeping lion.
Photo album of the ceremony