•
Who is Fati NIANG ?
French and born to Senegalese parents, Fati Niang grew up in France. After obtaining her BTS actions commerciales en alternance, she joined an architecture firm as an account manager, where she worked for 10 years. In 2013, after a brief time with a subsidiary of GDF Suez, she founded Black Spoon, the first African food truck.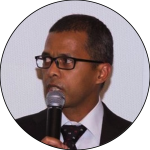 Serge RAYMOND
General Director of the Bank of Africa
•
What is "Black Spoon" ?
Black Spoon is the first food truck offering African dishes to Europe. This mobile restaurant is open everyday, and is stations principally in Greater Paris (particularly in l'esplanade of la Defense) and draws a large clientele of both Europeans and Africans.