• 
Who is Pierrick CHABI ?
Born in the Ivory Coast and raised in Benin, Pierrick Chabi moved to France to pursue higher education through scholarship. He studied Applied Mathematics and specialized in image analysis and artificial intelligence. At the end of his studies, he joined a startup specializing in augmented reality. He remained at the company for 7 years before founding his own company, Wakatoon, in 2015.
• 
What is "Wakatoon" ?
Wakatoon is the first app that allows children to trade coloring on paper for digitally coloring personal animated films. This technology offers authors and illustrators a new way to tell their stories from drawing to coloring. This new medium also allows businesses to communicate with their readers and involve them in the creative process. In 2015, Wakatoon won the Prize of Innovation in Paris.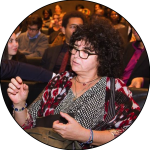 Valérie THFOIN
Head of Musiques Afrique et Caraïbes en creations Départment Echanges et Coopérations Artistiques at l'Institut Français